Crystal Accessories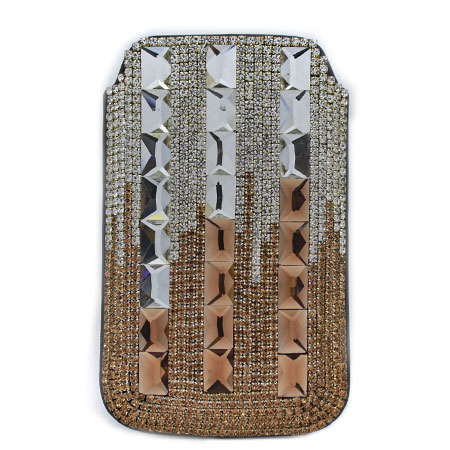 If you're looking to add crystal accessories to your retail store, you'll find the widest assortment at low wholesale prices at our site.
Handbagdistributor.com's collection of crystal accessories starts with cell phone cases that are studded with crystal rhinestones to keep phones safe from harm while adding a stylish accessory to an outfit. Our star studded assortment of crystal cell phone cases features high bling gold croc material carriers with a genuine crystal studded body and solid black cases with subtle rhinestone ornaments studded with crystals. Our cell phone cases feature genuine crystal rhinestone designs including stars, crosses and metal tips.
Our crystal accessories collection features conchos that accessorize designer handbags, animal print flip flops and western belts. Our rhinestone crystal conchos come in an array of exciting colors, from turquoise to jade and amber and come with screws to easily attach to handbags and other accessories. We offer popular concho shapes, from round to triangle, rectangle and oval to match a variety of styles.
Our crystal accessory collection is canine-centric with our high quality rhinestone and crystal studded dog collars. Made from solid cowhide straps, they feature an array of shimmering and dazzling rhinestone and crystal designs and buckles. Leash attachments come with our dog collars and front buckles are decorated with genuine rhinestones. Colorful straps, in brown, black and pink cowhide attached to the dog collars will make your pooch the town's most cherished when out for a walk.
Handbagdistributor.com offers these crystal accessories along with a variety of western accessories, from handbags and purses to rhinestone jewelry, flip flops and leather belts. We offer the finest wholesale western merchandise for casual and upscale shoppers. Make your favorite cowgirls happy with our crystal accessories and other items that are just right for your western themed clientele. Outfitting your business has never been easier with a wholesale website that's easy to use and full of affordable bargains to pass along to your favored customers.