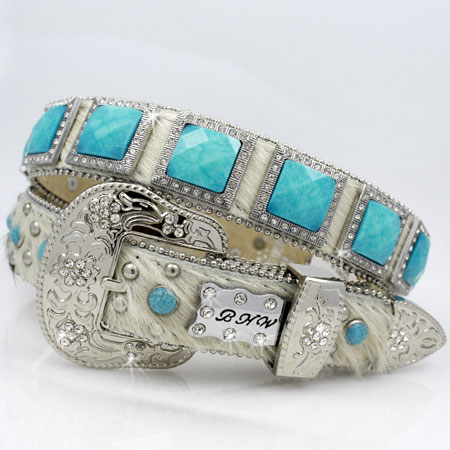 Handbagdistributor.com is a wholesale site that specializes in stylish designer handbags, but we don't stop there. If you're a fashion retailer specializing in Western garb you don't want to overlook our fantastic collection of Western belts.
We have an enormous selection of genuine cowhide leather and cross ornamented belts, and belts for women and men, kids, tweens and plus sizes.
Our Western belt repertoire includes Western rhinestone BHW brand belts decorated with genuine glass rhinestones and heavy studs. We have belts with shimmering turquoise stones that make a strong fashion statement and a genuine cowhide belt strap decorated with genuine glass crystals.
From traditional cowhide to more exotic leathers our Western belts come in a wide variety of styles with terrific features such as detachable belt buckles and double screws on the belt buckle tab to make cutting and sizing the belt extra convenient. You'll also find exciting ornament designs including rhinestones, glass crystal crosses, stars and large disc Conchos with turquoise stones.
Western belts are one of the most important elements of western wear for women. From blinged-out styles to rugged leather, cowgirls love to accent everything from tunic tops to jeans with a Western belt. Western belts are also a must-have accessory for men. They offer a decoratively finished look that's ideal for country casual or elegant formal dress and compliments men's attire, adding a finishing touch to the personality of any man.
Our Western belts look great on cowgirls, but anyone with a taste for Western fashion will appreciate the authentic look and high quality. Our tasteful collection of Western belts goes great with traditional and contemporary outfits. We offer a wide variety of Western belts that men, women and children will look great in.
Western belts are fashion accessories that retail fashion stores thrive on and if you buy in bulk you get a great discount rate that keeps inventory costs low while you stock up on a great product that will be a top seller.
Handbagdistributor.com is a leading supplier of wholesale Western handbags, designer purses, rhinestone jewelry, flip flops and genuine Western belts that are ideal for casual and upscale shoppers. Outfitting your retail store has never been easier with convenient online ordering and shipping for the latest wholesale Western products that keep your cash register ringing.